A lot of people just love their pussycats. Check out the catalog of feline entertainment products on the market if you don't believe me. Activity centres, multi-storey scratching structures covered in shag carpet, wind-up toys, recreational catnip, all for a pet whose species is the greatest hunter in the animal kingdom. For those wanting to up the pampering and ensure that all nine lives are happy and healthy, there's a new company launching in the Canadian market that is sure to stir things up.
FurryTail was founded in 2018 in Hangzhou, China by Freya Lian and two close friends who share her passion for animal rescue. Lian's first childhood pet was a kittycat named Furry. She currently loves 18 cats and four dogs and is unequivocally a devoted pet person, as is her entire FurryTail team. Vancouver-based Aries Wu is the company's North American CEO and the person responsible for rolling out the brand in Canada. He is a true believer in the healing power of our animal friends.
"I've known a middle-aged man battling depression who gained strength to live fully thanks to caring for his cat and drawing support and warmth from that bond," Wu says. "Each Furry story is unique, but there is always a tale, so to speak, of shared vulnerability and struggle that makes each story relatable. These are the stories of my partners, employees, and our customers, and they have inspired me to do what I do in this challenging world." Wu's belief in the power of the pet is backed up by real science and what he calls "the cuddle chemical, which increases feelings of relaxation and wellbeing while reducing stress and anxiety." Anybody who has ever caressed a purring cat understands what he means.
FurryTail relies on innovation, which is why the company works with the best veterinary nutritionists and food scientists to create first-in-class products. "For example, we are a DTC (direct-to-cat/consumer) product and that guarantees quality and freshness," Wu says, "and, I can say that we are the only product that includes Pet NMN." That's a health supplement that has been lab-proven to support your pet's immunity and increase longevity. Nine lives? FurryTail cats can look forward to even more!
There is no doubt that pet lovers consider their companions to be members of the family, and FurryTail believes that means offering high-quality, organic meals made from the finest ingredients. There is solid research behind each recipe. In 2020, FurryTail became the first Chinese pet brand to enter into a strategic cooperation agreement with the University of Pennsylvania and the World Small Animal Veterinary Association. The result is a premium line of grain-free, raw wet meals and treats for cats of all ages.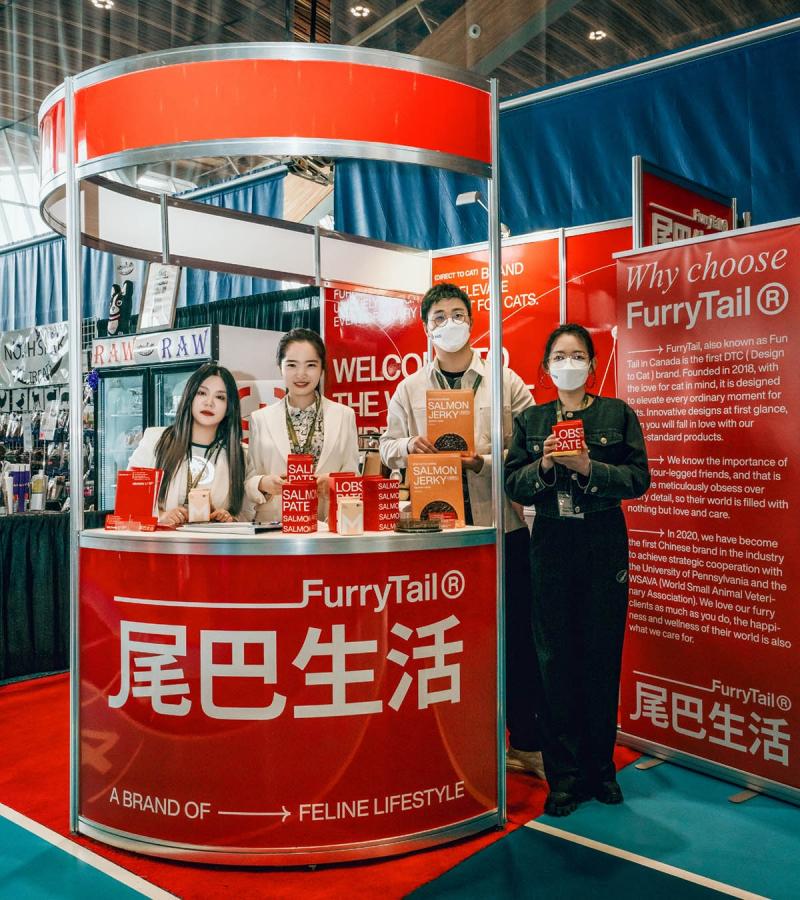 FurryTail meals are made from top-quality Canadian lobster and wild salmon from Vancouver, sustainably sourced and cage-free fresh ingredients that meet standards set by the Association of American Feed Control Officials. Lobster and salmon are highly nutritious and rich in protein and probiotics, and are just as beneficial for your cats as they are for you. And, with FurryTail you are not wasting money on a lot of grain fillers that can lead to digestive issues. The only liquid you are paying for is delicious fish oil for a gorgeous, shiny coat.
FurryTail is food for cats made by cat lovers. "We truly have our furry friends' best interests at heart," says Aries Wu, "and we are proud to have delivered pet-care products to over 110 million homes across the world, and starting now right here in Canada!"
You can choose from a wide variety of meals and treats from the FurryTail menu, plus fun toys and cool accessories, at www.furrytail.net.